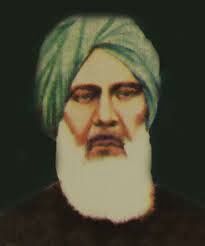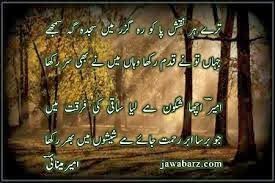 Ameer Minai
an
Urdu
poet of eminence was born in 1828 at
Lucknow
and died in 1900 at
Hyderabad
. His full name was Ameer Ahmad Minai, and he also wrote under the pen name `Ameer'. He noted this dual use of his first name in a verse:
نام كا نام، تخلص كا تخلص ہے امير
ايک يہ وصف خداداد مرے نام ميں ہے
(naam kaa naam, takhallus ka takhallus hae ameer / ayk yeh vasf-e khudaadaad miray naam meN hae) (It serves both as my name and my non de plume / this is a God-given feature of my name)
A popular poet both with the people and the aristocracy, he was held in high esteem by his contemporary poets like
Ghalib
and
Daagh Dehalvi
.
[

1

]
[

2

]
He was also greatly admired by the great Urdu and poet,
Muhammad Iqbal
.
Personal details
Born in 1828 in Lucknow into a family of religious scholars. His father, Maulvi Karam Muhammad Minai, was a well-known religious scholar in Lucknow. The family was descended from the famous Sufi saint from Lucknow, Hazrat Makhdoom Shah Mina, whose tomb in Lucknow is still a major attraction for devotees. The Minai family had lived in Lucknow for centuries in the area around Shah Mina's tomb, known as "Mina Bazaar" or "Mohalla-e Minaian" (The Quarter of the Minais). Ameer was educated at Farangi Mahal, Lucknow`s primary educational institute, and attained high standing as an expert in Islamic law and jurisprudence.
He joined the royal court of
Awadh
and was appointed to a position of high responsibility in the judiciary. However, in the British attack on Lucknow in 1856 and the subsequent War of Independence in 1857, the family's homes were all destroyed and Ameer was forced to flee with his family, first to the nearby town of Kakori where he found refuge with the poet
Mohsin Kakorvi
, and eventually to the state of
Rampur
, where he found great favor at the court of the ruler,
Nawab Yusuf Ali Khan
. He held high positions in the judiciary, was appointed head of Rampur's magnificent library, and became the official poetic mentor (ustad) of the ruler, succeeding the great Urdu poet,
Ghalib
, in this position. Ameer lived in Rampur until 1900 when he decided to go to
Hyderabad
Deccan to seek financial support for the publication of the remaining volumes of his Urdu beloved dictionary, "Ameer-ul-Lughaat" — but that was not to be and he died there on October 13, 1900, barely a month after his arrival. He is buried in Hyderabad. Ameer Minai had five sons (Muhammad Ahmad Minai, Khursheed Ahmad Minai, Lateef Ahmad Minai, Mumtaz Ahmad Minai and Masood Ahmad Minai), and three daughters (Ma'soom-un-Nisa, Ehtishaam-un-Nisa and Fatima).
Work
Ameer Minai was a poet of
Urdu
and
Persian
. He is also known as a
lexicographer
,
Sufi
, scholar, editor, prose writer, translator, and connoisseur of language. He had studied logic, law, geography, mathematics, medicine, history, religion, music, philosophy and wrote some 50 books in Urdu and Persian—many of which remain unpublished. In poetry, Ameer is best known for his ghazals, and for the
naat
genre—poems in praise of the Prophet
Muhammad
—which he helped popularize in Urdu poetry
[

3

]
[

4

]
among other poets. In accordance with the tradition of his time, Ameer began his poetic career by selecting a mentor from among the established poets of his time. In Ameer's case, this mentor was
Muzaffar Ali Aseer
, one of the leading poets in Lucknow who was himself the pupil of a giant of Urdu poetry,
Shaikh Ghulam Hamadani Mushafi
. As such, Ameer alweays considered himself as a member of Mushafi's school of poetry.
Ameer also developed close friendships with the major poets and writers of his time.
Ghalib
, though twenty years older than Ameer, counted the latter among his friends—presumably because both were associated with the court at Rampur. Ameer had a very close personal friendship—and a fierce poetic rivalry—with his great contemporary,
Daagh Dehalvi
. As a major poet in his own right, Ameer was mentor to several significant poets, including
Riaz Khairabadi
,
Jalil Manakpuri
,
Dil Shahjahanpuri
and
Muztar Khairabadi
. Ameer Minai published two collections of ghazals. The first was
Mir'at-ul Ghaeb
and the second
Sanamkhana-e 'Ishq
. He also published collections of devotional prose and poetry called
Khayaabaan-e Aafreenish
and
Mahaamid-e Khaatam-un-Nabiyyeen
. Few poets in Urdu have had so many of their lines become part of colloquial usage as Ameer Minai.
Ameer Minai was the founder and leader of the project to produce a comprehensive, multi-volume Urdu dictionary called
Ameer-ul-Lughaat
. Members of his team included some of the most famous Urdu poets and writers of the time, such as
Riaz Khairabadi
,
Jalil Manakpuri
,
Waseem Khairabadi
and
Mumtaz Ali Aah
. The project had the patronage of the Nawab of Rampur and the Lieutenant Governor of the Northwest Provinces,
Sir Alfred Lyall
. However, due to the Nawab's death and the departure of Lyall for another assignment set the project back, and most of Ameer Minai's last two decades were spent looking for new patrons for this project, which he considered to be his primary achievement. Reports indicate that the manuscript was completed, though only two volumes for the letters "alif mamdooda" ( آ ) and "alif" ( ا ) were, in fact, published in 1891 and 1892 respectively.
The manuscript for a third volume, for the letter "bay" (ب), has remained in the family and was recently published through the efforts of Ameer Minai`s grandson Israil Ahmed Menai. It was edited by the well-known Urdu philologist and lexicographer, Dr. Rauf Parekh. The remaining volumes appear to have been lost, and even their number remains uncertain. Israil Menai has also re-issued Ameer Minai's divans, `Mir'at-ul-ghaib` and `Sanamkhana-e 'Ishq`, and recently published two more book in one volume. The first is an account of the Prophet Muhammad's early life written in prose. Titled Khayaabaan-i-Aafreenish, it describes Muhammad`s life based on authentic sources. The other is Mahaamid-i-Khaatam-un-Nabiyyeen, the collection of Ameer`s naat poetry.
Mutaala'-e Ameer
by Abu Muhammad Sahar, published in 1963 from
Lucknow
, is an important work on the life and literary works of Ameer Minai.
[

5

]
The famous
ghazal
'sarakatee jaayey hai rukh se naqab aahista, aahista...' attributed to Ameer Minai has been sung in a film starred by
Rishi Kapoor
and
Tina Munim
. However, there is no evidence from original sources that he was the author of this ghazal. Another famous ghazal attributed to the poet is 'haalaat maekade kay karvaT badal rahay haeN', but this is also probably not by him. Of Ameer Minai's ghazals that have been sung, the best known is 'jab se bulbul too ne do tinkay liye / loTtee haeN bijliyaaN in kay liye', sung by
K.L. Saigal
,
Ghulam Ali
,
M. Kalim
and others. It can be heard
here
. Ustad Barkat Ali Khan sang another one of his ghazals, 'naavak-e naaz se mushkil hae bachaana dil kaa / dard uTh uTh ke bataataa nae Thikaanaa dil kaa'