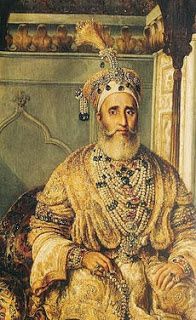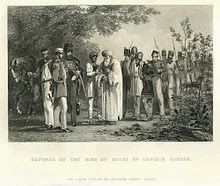 Mirza Abu Zafar Sirajuddin Muhammad Bahadur Shah Zafar
better known as
Bahadur Shah Zafar
on 24 October 1775 – died 7 November 1862), was the last
Mughal emperor
and a member of the
Timurid Dynasty
. Zafar was the son of
Mirza Akbar Shah II
and Lalbai, who was a
Hindu
Rajput
, and became Mughal Emperor when his father died on 28 September 1837. He used
Zafar,
a part of his name, meaning "victory",
[

1

]
for his
nom de plume
(
takhallus
) as an
Urdu poet
, and he wrote many Urdu
ghazals
under it. After his involvement in the
Indian Rebellion of 1857
, the British tried and then exiled him from
Delhi
and sent him to
Rangoon
in then-British-controlled
Desi
.
Ascent to the Throne / Masnad
Zafar's father,
Akbar Shah II
, ruled over a rapidly disintegrating empire between 1806 and 1837. It was during his time that the
East India Company
dispensed with the illusion of ruling in the name of the Mughal monarch and removed his name from the Persian texts that appeared on the coins struck by the company in the areas under their control.
Zafar was not his father's preferred choice as his successor. One of Akbar Shah's queens, Mumtaz Begum, had been pressuring him to declare her son
Mirza Jahangir
as his successor. The East India Company exiled Jahangir after he attacked their resident,
Archibald Seton
, in the Red Fort
Bahadur Shah Zafar presided over a Mughal empire that barely extended beyond
Delhi
's
Red Fort
. The East India Company was the dominant political and military power in mid-nineteenth century India. Outside
Company controlled India
, hundreds of kingdoms and principalities, from the large to the small, fragmented the land. The emperor in Delhi was paid some respect by the Company and allowed a pension, the authority to collect some taxes, and to maintain a small military force in Delhi, but he posed no threat to any power in India. Bahadur Shah himself did not take an interest in statecraft or possess any imperial ambitions. After the
Indian Rebellion of 1857
, the British exiled him from
Delhi
.
Bahadur Shah Zafar was a noted
Urdu poet
, and wrote a large number of Urdu
ghazals
. While some part of his opus was lost or destroyed during the
Indian Rebellion of 1857
, a large collection did survive, and was later compiled into the
Kulliyyat-i-Zafar.
The court that he maintained was home to several Urdu writers of high standing, including Mirza
Ghalib
,
Dagh
,
Mumin
, and
Zauq
.
Even in defeat it is traditionally believed that he said
[

3

]
غازیوں میں بو رھےگی جب تلک ایمان کی

تخت لندن تک چلےگی تیغ ھندوستان کی
Ghāzioń méń bū rahegi jab talak imān ki; Takht-e-London tak chalegi tégh Hindustan ki
Emperor Bahadur Shah is seen in India as a freedom fighter (the mutiny soldiers made him their Commander-In-Chief), fighting for India's independence from the Company. As the last ruling member of the imperial
Timurid Dynasty
he was surprisingly composed and calm when Major
Hodson
presented decapitated heads of his own sons to him as
Nowruz
gifts. He is famously remembered to have said.
[

4

]
Bahadur Shah Zafar was a devout
Sufi
.
[

5

]
Zafar was himself regarded as a Sufi
Pir
and used to accept
murids
or pupils.
[

5

]
The loyalist newspaper
Delhi Urdu Akhbaar
once called him one of the leading saints of the age, approved of by the divine court.
[

5

]
Prior to his accession, in his youth he made it a point to live and look like a poor scholar and
dervish
, in stark contrast to his three well dressed dandy brothers, Mirza Jahangir, Salim and Babur.
[

5

]
In 1828, when Zafar was 53 and a decade before he succeeded the throne, Major Archer reported,
"Zafar is a man of spare figure and stature, plainly apparelled, almost approaching to meanness.

[

5

]

His appearance is that of an indigent munshi or teacher of languages".
[

5

]
As a poet and dervish, Zafar imbibed the highest subtleties of mystical Sufi teachings.
[

5

]
At the same time, he was deeply susceptible to the magical and superstitious side of Orthodox Sufism.
[

5

]
Like many of his followers, he believed that his position as both a Sufi pir and emperor gave him tangible spiritual powers.
[

5

]
In an incident in which one of his followers was bitten by a snake, Zafar attempted to cure him by sending a "
seal of Bezoar
" (a stone antidote to poison) and some water on which he had breathed, and giving it to the man to drink.
[

6

]
The emperor also had a staunch belief in
ta'aviz
or charms, especially as a palliative for his constant complaint of piles, or to ward off evil spells.
[

6

]
During one period of illness, he gathered a group of Sufi pirs and told them that several of his wives suspected that some party or the other had cast a spell over him.
[

6

]
Therefore, he requested them to take some steps to remedy this so as to remove all apprehension on this account. They replied that they would write off some charms for him. They were to be mixed in water which when drunk would protect him from the evil eye. A coterie of pirs, miracle workers and Hindu astrologers were in constant attendance to the emperor. On their advice, he regularly sacrificed buffaloes and camels, buried eggs and arrested alleged black magicians, in addition to wearing a special ring that cured indigestion. On their advice, he also regularly donated cows to the poor, elephants to the Sufi shrines and a horse to the
khadims
or clergy of
Jama Masjid
.
[

6

]
Zafar consciously saw his role as a protector of his Hindu subjects, and a moderator of extreme Muslim demands and the intense puritanism of many of the Orthodox Muslim sheikhs of the
Ulema
.
[

7

]
In one of his verses, Zafar explicitly stated that both
Hinduism
and
Islam
shared the same essence.
[

7

]
This syncretic philosophy was implemented by his court which came to cherish and embody a multicultural composite Hindu-Islamic Mughal culture.
[

7

]
For instance, the Hindu elite used to frequently visit the
dargah
or tomb of the great
Sufi
pir,
Nizam-ud-din Auliya
.
[

7

]
They could quote
Hafiz
and were very fond of Persian poetry.
[

7

]
Their children, especially those belonging to the administrative
Khatri
and
Kayastha
castes studied under maulvis and attended the more liberal
madrasas
, bringing food offerings for their teachers on Hindu festivals.
[

7

]
On the other hand, the emperor's Muslim subjects emulated him in honouring the Hindu holy men, while many in court, including Zafar himself, followed the old Mughal custom, originally borrowed from high class Hindus, of only drinking the water from the
Ganges
.
[

7

]