Kunwar Mohinder Singh Bedi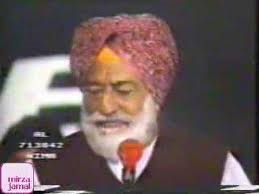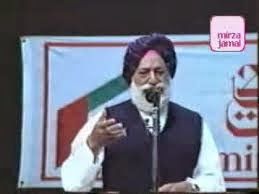 Personal life
Career
His poetry is varied and includes traditional themes of love and yearning but also themes of unity, peace between India and Pakistan and humor. His poetry is considered to belong to the same transreligious and transnational tradition as that of other well-known poets from the Indian subcontinent such as
Muhammad Iqbal
,
Faiz Ahmad Faiz
and
Ahmad Faraz
.
[

4

]
Sahar's first book of poetry was
T̤ulūʻ-i saḥar
(1962)
[

5

]
(translation "Advent of Daybreak"; the title is a play on words as pen name "Sahar", in Urdu means
daybreak
). In 1983, he published a collection of autobiographical poetry titled
Yādon̲ kā jashn
("A Celebration of Memories").
[

6

]
An international event to celebrate his poetry, called Jashan-e-Sahar ("A celebration for Sahar"), was held in the
U.A.E.
in 1992.
[

7

]
Poetry
An example of his use of humor to make a serious point is the following
Ruba'i
:
Waiz ki jawani bhi kiya shaiy hai khuda rakhay

yeh waqaf e aghaz o anjam nahi hoti
youn lazat e duniya se mehromi o nakami
Allah ki lathi mein awaz nahi hoti
Translation
The preacher's youth is something to behold

it does not know a beginning or an end
this abstention from the joys of life
God's punishment is indeed silent
Kanwar Mohinder Singh Bedi Award
An award was created in his honor known as the Kanwar Mohinder Singh Bedi Award, presented by
Haryana Urdu Akademi
. It has included a cash prize of Rs. 25,000, a Shawl, memento and citation.
[

8

]
[

9

]
Winners