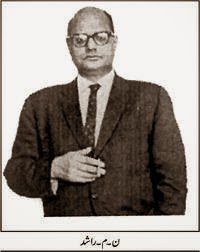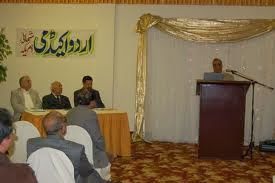 Early years
Career
Rashed served the
UN
and worked in many countries. He is considered to be the father of Modernism in
Urdu Literature
. Along with
Faiz Ahmed Faiz
, he is one of the great progressive poets in
Pakistani literature
. His themes run from the struggle against oppression to the relationship between words and meanings, between language and awareness and the creative process that produces poetry and other arts. Though intellectually deep, he is often attacked for his unconventional views and life-style. In an age when Pakistani literature and culture acknowledge their Middle Eastern roots, Rashed highlighted the Persian element in the making of his nation's history and psyche. Rashed edited an anthology of
modern Iranian poetry
which contained not only his own translations of the selected works but also a detailed introductory essay. He rebelled against the traditional form of '
ghazal
' and became the first major exponent of
free verse
in Urdu Literature. While his first book,
Mavra
, introduced free verse and is more technically accomplished and lyrical, his main intellectual and political ideals reach maturity in his last two books.
His readership is limited and recent social changes have further hurt his stature and there seems to be a concerted effort to not to promote his poetry. His first book of
free verse
,
Mavra
, was published in 1940 and established him as a pioneering figure in
free form
Urdu poetry
.
He retired to
England
in 1973 and died in a
London
hospital in 1975. His body was cremated, though no such request appears in his will. This created an outcry in conservative Pakistani circles and he was branded an infidel. Anyhow, he is considered a great figure in progressive Urdu literature.
Poetry
N M Rashed was often attacked for his unconventional views and life style. According to
Zia Mohyeddin
, a friend of Rashed, "In the time when everybody was in quest of learning English, which was a must for getting some decent job, Rashed was busy in making paintings or poetry."
The themes of Rashed's poetry run from the struggle against domination to the relationship between words and meanings, between language and awareness and the creative process that produces poetry and other arts.
Initially his poetry appeared to have the influence of
John Keats
,
Robert Browning
and
Matthew Arnold
and he wrote many
sonnets
on their pattern, but later on he managed to maintain his own style. These were his initial exercises of poetry, which could not last for a longer period of time, and so ultimately he developed and maintained his own style.
He rebelled against the traditional form of the 'ghazal' and became the first major exponent of free verse in Urdu Literature. His first book, 'Mavra', introduced free verse and is technically accomplished and lyrical.
Family
Rashed's first wife Safia died in 1961 at the age of 46, of an incorrectly administered B-complex injection in Karachi. His second marriage, to Sheila Angelini, took place in 1964.
Rashed had several children. His eldest Nasrin Rashed lives in Islamabad and is retired from her work with the
Pakistan Broadcasting Corporation
. The second daughter Yasmin Hassan resides in Montreal, and has two children, Ali and Naurooz. His nephew (sister's son) and son-in-law (Yasmin Hassan's husband) Faruq Hassan was a teacher at
Dawson College
and
McGill University
. Faruq Hassan died on November 11, 2011.
[

3

]
The third daughter, Shahin Sheikh, now deceased, lived in Washington and worked for the
Voice of America
. She has two children in the US. Rashed's youngest daughter, Tamzin Rashed Jans, lives in Belgium and has two sons.
His eldest son Shahryar died in 1999 holding the post of Pakistani Ambassador to Uzbekistan. The younger, Nazeil, lives in New York.
Bollywood
His poem "
Zindagi sey dartey ho
" was set to music in the 2010
Bollywood
movie,
Peepli Live
. It was performed by the Indian music band,
Indian Ocean
, and received critical appreciation as "
hard-hitting
" and "
a gem of a track
" that "
everyone is meant to sing, and mean, at some point in life
".
[

4

]
[

5

]
Bibliography
Mavra

Iran Main Ajnabi

La Musawi Insan

Guman ka Mumkin