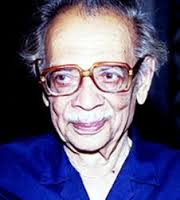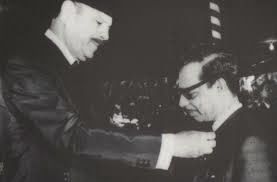 Shan-ul-Haq Haqqee
Sitara-e-Imtiaz, Tamgha-e-Quaid-i-Azam,
was a notable
Urdu
poet
,
writer
,
journalist
,
broadcaster
, translator,
critic
,
researcher
,
linguist
and
lexicographer
of
Pakistan
. Born in
Delhi
, Haqqee acquired his BA from
Aligarh Muslim University
. He obtained a Master's in English literature from
St. Stephen's College, Delhi
.
[

citation needed

]
His father, Ehtashamuddin Haqqee, wrote short stories, a study of
Hafez
,
Tarjuman-ul-Ghaib
, a translation of
Diwan-i-Hafiz
in verse and compiled a dictionary.
[

citation needed

]
Haqqee recited his first
ghazal
at an annual poetic gathering of St. Stephen's College Haqqee published two anthologies of poems,
Tar-i-Pairahan
(1957) and
Harf-i-Dilras
(1979). He also published ghazals under the title,
Dil ki Zaban
.
His other publications include:
Maqalaat-e-Mumtaz

Shaakhsaanay (Short Stories)

Maqam-e-Ghazal (edited work of Hafiz Hoshiarpuri)

Nashid-i-Hurriyat

Nukta-e-Raz

Bhagvad Gita (Urdu translation)

Darpan Darpan (translated poetry from various languages)

Intikhab-e-Kalam-e-Zafar

Qitaat-e-Tareekh-e-Wafat-e-Ahle-Qalam-wa-Mutaliqeen-e-Ahle-Qalam

Lisani Masail-o-Lataif

Nazr-e-Khusro Pahelian Keh Mukarniyan

Aaeena-e-Afkar-e-Ghalib

Nok Jhonk

Suhaanay Taraanay

Phool Khilay Hain Rung Birnagay

Anjaan Rahi (translation of Jack Shaffer's novel Shane)

Teesri Duniya (translation of essays on politics and economy)

Soor-i-Israfeel (translation of Bengali poet Qazi Nazrul Islam)

Khayabaan-e-Pak (anthology of Pakistan's folk poetry of about 40 poets)
He also wrote other genres of poetry, such as Peheylian, Kehmukarnian, and Qitat-i-Tareekhi.
As a lexicographer
In addition to his regular professional duties, he remained associated with the Urdu Dictionary Board for 17 years from 1958 to 1975, compiling a 22-volume dictionary.
[

citation needed

]
He compiled two other dictionaries.
Farhang-e-Talaffuz
is a pronouncing dictionary of Urdu published by the
National Language Authority
. The
Oxford English-Urdu Dictionary
is a translation of the eighth and ninth editions of the
Concise Oxford English Dictionary
.
[

citation needed

]
In addition to libraries in South Asia, some of Haqqee's books are found in the Library of Congress and the University of Toronto Library.
[

citation needed

]
Death