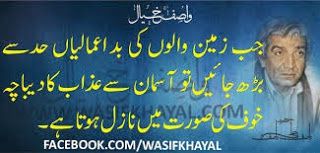 Wasif Ali Wasif
(15 January 1929 – 18 January 1993) was a teacher, writer, poet and
sufi
intellectual
from
Pakistan
. He is famous for his unique literary style. Many of his APHORISMS have become proverbs in recent years. His first book "Kiran Kiran Suraj" containing these Aphorisms was published in year 1985 and remained best seller for many many years. He used to write short essays on topics like love, life, fortune, fear, hope, expectation, promise, prayer, happiness, sorrow and so on with clear objective of highlighting the true spirit of Islam. He was regular
columnist
of Pakistani
Urdu
daily newspaper
Nawa-i-Waqt
. His column was named "GUFTAGOO" and it started publishing in newspaper in 1984. His first column was on "Muhabbat". In his life, most of his columns were combined to form two books (Dil Darya Samandar , Qatra Qatra Qulzam" with his own selected title.
Later on a third book "Harf Harf Haqeeqat" containing these essays was published after he died in 1993. He did
poetry
in
Urdu
and
Punjabi
languages
. Probably no contemporary
Urdu
writer is more cited in
quotations
than he is. Later years he used to answer questions in regular gatherings arranged every Thursday at his residence and every Friday at someone else's place in
Lahore
attended by the notable community. Many of these Q & A sessions were recorded in audio and were later transcribed and published as
Guftgoo
(talk)
series. His mehfils never had a set subject nor did he delivered lecture on chosen topics. His way was to ask people if they had questions and then he used to respond to those questions in his highly original style. His thought was more on
mysticism
,
spirituality
and
humanity
. There are about 40 books to his credit including "Shab Chiragh", "Kiran Kiran Sooraj", and "Dil Darya Samundar".
Early life
Wasif Ali Wasif was born on 15 January 1929 at
District
Khushab
. At that time Khushab used to be a
tehsil
and the district was
Shahpur
. He belonged to a very prestigious cast
Awan
. His father Malik Muhammed Arif was a teacher. He received his
religious education
under the supervision of his father. He got
primary education
in a local school in Khushab. He passed
Matriculation
examination from Govt. High School Khushab in 1944. His
maternal
grandfather, a skilled educationist, was appointed as
Headmaster
at a Govt. school in Jhang. Therefore, he was sent to his maternal. He did F.Sc from Govt. Inter college Jhang and
graduation
from Govt. Degree College Jhang. He was a hardworking student who passed every examination by obtaining first division. Then he moved to
Lahore
; here he did
M.Sc
in
Mathematics
from Government
Islamia College
Civil Lines, Lahore and
M.A.
in
English
from
Government College, Lahore
. He was an excellent player of hockey for which he was awarded a colour. He started writing for college magazine "Ravian" when he was a student. He used to write in Urdu as well as in English.
Shrine
Wasif died on January 18, 1993. Being famous for
Sufism
and respected by many people, he is usually referred to as
Hazrat
Wasif Ali Wasif. His
shrine
is located in
Lahore
at 25 Bahawalpur Road, near Chowk Chauburji. His
Urs
(Religious Festival) is celebrated every year from 22nd to 24th of the month of
Rajab
.
As a Teacher
Wasif passed
PCS
exam in 1954 but did not join it and started his career as a teacher. At first he taught in some private institutions for sometime, but then he founded Lahore College for English later 'Lahore English college' in 1958. It was due to ever increasing number of students he started teaching students in two shifts.
As a Writer
Wasif Ali Wasif spent most part of the day in quiet, but when he spoke there was nothing that was not quotable. He was known as a
conversationalist
.
Ashfaq Ahmed
said, "The sentences we concoct are our piece of craft, Wasif's lines came from somewhere else." His prose is simpler, using figures of speech less frequently and thus sounds more natural but it has distinctive qualities of fine poetry. Renowned
politician
and connoisseur of
art
and
literature
,
Hanif Ramay
is of the view "Wasif's prose influences like the poetry of
Iqbal
. Another aspect of his work is that these originally appeared as columns in an Urdu daily defying the strongly held belief that
journalism
cannot produce pure literature which can have a long life.
Siraj Muneer
, a well-read scholar and
critic
, has written, "We took them as columns but they were another aalam (world)." He believed that a thought can never be expressed fully in words, a reader should be alive to this fact and should try comprehending the portion that was impossible to be carried in words.
The critic and scholar
Professor
Gilani Kamran
comments on his book 'Dil Darya Samundar' that Wasif Ali Wasif's collection of essays has a pleasant rhythm of an emotionally sustained prose. The sentence moves with grace and the words have the ring of sensation. These features are only rarely found in modern Urdu prose. But whether or not one succeeds in discovering himself, or in entering the field of a higher experience, the rhythm of Wasif's prose certainly compensates for any loss of achievement. With this one book, it can be said with some assurance, our
culture
is seen to be moving out of a closed world and entering an age of self discovery where single individual becomes the object of new orientation and also the locus of a new destiny." Wasif Ali Wasif has a diverse following ranging from high
judiciary
to vendors. One of his followers,
Government College University
Chief Librarian Abdul Waheed, titled him
Saadi
of present times. He said, "Wasif's writings were eye-opening but his conversations were even more deeply thought out."
The following is a rough translation of Wasif Ali Wasif's essay called
Firaq o Wisal
(Separation and Union), " As long as man was in the moolight he desired to reach the moon…there was bliss in the moonlight but the moon itself was distant.
Moonlight was near but man longed for the moon…man reached the moon but there he was without the moonlight. If one reaches the moon one does not find moonlight any longer and if one is in moonlight one does not find the moon. It is a strange fact that one is only because of the other…one is a sign of the other yet both are forever separate. If the Beloved is the Moon, moonlight is His remembrance. When the Beloved is present His remembrance is not and when His remembrance is present the Beloved is not. Proximity to one is distance from the other, Union with one is separation from the other. Thus union is hidden in every separation and separation in every union."
As a Sufi
Quotes
Belief in God, without belief in the Prophet, would still be unbelief.

When the eye becomes the heart, the heart becomes the eye.

The world is ancient, but it has not lost its newness.

A man is happy who is happy with his Naseeb.

Do not destroy anybody's peace. You will find peace.

Democracy is the name of the period between two martial laws.

Remove the conflict between your desires and your duties, peace will come.

When the child is ill, the mother will know how to pray.

Investigation after declaration of submission leads astray.

Death is the protector of life and life is the process of death.

Life is not only Newton, it is also Milton.

He who has no light in his heart, what will he gain from the festival of lamps.

A more fearful thing than death is the fear of death.

Students are the real inheritors of country.

The period before the dawn of knowledge is called the age of darkness.

Man neither loses nor gains in this world. He just comes here and departs.

When Allah accepts repentance for sin, He wipes out the very memory of sin.

One who has no beloved in the country can never love the country.

He who is drowned in sin, is devoid of faith in prayer.
Works
Shab Chiragh (Urdu Poetry) 1978

Kiran Kiran Sooraj (Aphorism) 1983

The Beaming Soul (English Version of Kiran Kiran Sooraj) 198?

Dil Darya Samundar (Essays) 1987

Qatra Qatra Qulzum (Essays) 1989

Ocean in Drop (English version Of Qatra Qatra Qulzam) 19??

Harf Harf Haqeeqat (Essays) 1994

Bharay Bharolay (Punjabi Poetry) 1994

Shab Raaz (Urdu Poetry) 1994

Baat Say Baat (Aphorism) 1995

Gumnam Adeeb (Letters) 19??

Mukalama (Dialogue,Speeches & Interview) 19??

Ziker-e-Habeeb (Na'tia Poetry) 2004

Dareechay (Aphorism) 2004

Guftgoo (Questions & Answers Series - 28 volumes)