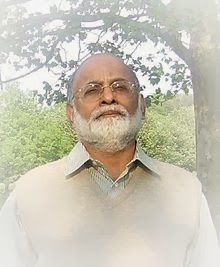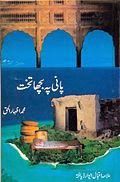 Muhammad Izhar ul Haq,
is a columnist and a renowned poet of Urdu language, in Pakistan. He has received international recognition for his contribution to Urdu literature, and has been awarded Pakistan's highest civil award
Pride of performance
in 2008. He has published four books of Urdu poetry and writes weekly column in Daily Dunya
Personal life
Born on 14 Feb 1948 in the village Jhendial, in the district of
Attock
in
Punjab
, Muhammad Izhar ul Haq got his early education from his grandfather and father. His grandfather, Ghulam Muhammad, was a famous scholar and jurist of his time and was known to teach
Persian literature
and language. Muhammad Izhar ul Haq's father, Hafiz Muhammad Zahoor ul Haq Zahoor, also a scholar of high repute, was author of a number of books in
Persian
and
Urdu
in poetry as well as prose.
[

1

]
Muhammad Izhar ul Haq topped in Government College
Rawalpindi
in graduation examination and was awarded Federal Government Inter-wing fellowship under which he did his MA Economics from
Dhaka University
. Later, he did MA in Arabic from
Punjab University
as external candidate and also learnt
Uzbek
language in Islamabad. In 1972, he joined the Civil Service of Pakistan after qualifying the Central Superior Services competitive examination. He ascended to the highest echelon of bureaucracy in the federal government, before retiring in 2008. Muhammad Izhar ul Haq has three sons and two daughters, and lives with Zahida Shaheen, his wife, in Islamabad and Melbourne.
Poetry
Muhammad Izhar ul Haq has four books of poetry to his credit:
Diwaar-e-aab (winner of Adamjee Award for Literature 1982)

Ghadr (1986)

Paree-zaad (1995)

Paani peh Bichha Takht (winner of Allama Iqbal Award 2003

[

2

]

)
Muhammad Izhar ul Haq is considered a trend-setter in modern
Urdu
Ghazal
.
[

3

]
His first book, Diwaar-e-aab (1982) won Adam Jee award, the highest literary distinction at that time in the country. His two subsequent books in Urdu poetry, Ghadr and Paree-zaad hit the stalls in 1986 and 1995 respectively. His fourth book, Paani peh Bichha Takht, was conferred yet another honor, Dr. Allama Muhammad Iqbal award, in 2003. Izhar is best known in the genre of
Ghazal
, although his mastery in free-verse and prose-poem has also been established among the literary circles of
South Asia
.
Sample English translation of Izhar ul Haq's poetry can be read in the anthology "Pakistani Urdu Verse, Oxford University Press 2010", translated and edited by
Yasmeen Hameed
.
[

4

]
Columns and other literary works
Izhar ul Haq writes columns in the leading Urdu newspapers of
Pakistan
and abroad. He has been a regular columnist in
Jang
, Daily Jinnah,
Nawaiwaqt
, and presently in Daily Dunya. Themes of his columns usually relate to politics and society, reform and development, religion, and ethics etc. Izhar ul Haq is noted for his unique style of literary prose and especially his command over classical
Urdu
and
Persian
literature. The title of his Urdu column is "Talkh Nawai", which translates to "bitter discourse". Izhar ul Haq is also an occasional contributor in The News (Jang group), The Bangladesh Today, The Age (Australia), and various other national and international newspapers. Izhar ul Haq has also contributed in the research for implementation of Urdu in Pakistan, with the
National Language Authority
. In addition, he has also contributed with the National Language Authority as one of the compilers of the
Qaumi
English-Urdu Dictionary. For his services to Urdu literature, Muhammad Izhar ul Haq was awarded
Pride of Performance
by the government of Pakistan in 2008.