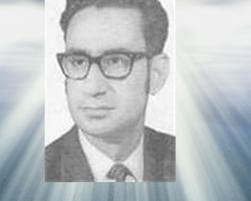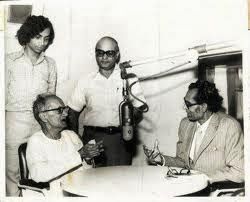 Mustafa Zaidi
(1930–1970) was a progressive Urdu poet whose work and literary accomplishments remain popular and relevant today.
[

citation needed

]
He was born on 16 October 1930 in
Allahabad
,
Uttar Pradesh
(UP), India to Lakhte Hasnain and Binte Haider. His father was a senior official in the Criminal Investigation Department (CID) of the UP Province, with roots in Meman Saadat, a village in district Bijnor. Mustafa Zaidi grew up in a household with five elder half brothers and was the second of three full brothers
Education
Mustafa Zaidi received his early religious education at home from a local scholar, and also at a local Madrassa in Allahabad. From 1936 to 1945, he attended the Modern High School in Allahabad, where he passed his High School examination in 1945 with second division and a distinction in Urdu.
[

citation needed

]
He was the Secretary of the Urdu Literary Society (Bazm-e-Urdu).
[

citation needed

]
He then attended the Ewing Christian College, Allahabad, and passed the Intermediate exam of the Board of High School and Intermediate Education, UP, in the first division in 1948.
[

citation needed

]
In 1950, he was awarded a first class Bachelor of Arts degree holding the 6th position from
Allahabad University
.
[

citation needed

]
He also won prestigious accolades such as Professor Dunn's Gold Medal, Dr. R.N Bhatia's Medal, and Iqbal Gold Medal.
[

citation needed

]
After completing his MA, he migrated to Pakistan in 1951 and completed his Master's degree in English Literature in 1953 from Government College, Lahore.
[

citation needed

]
Professional life
Zaidi gained jobs as professor in
Islamia Science College, Karachi
, and the
University of Peshawar
before entering the Civil Service of Pakistan in 1954. After his initial appointments as Assistant Commissioner of Sialkot, Dera Ghazi Khan and Murree, he remained Deputy Commissioner in Jhelum, Nawabshah, Khairpur, Sahiwal and Lahore. During his career, he received the prestigious civil award of
Tamgha-e-Quaid-e-Azam
for outstanding service.
[

citation needed

]
He attended Muffield Foundation training in London and returned to Pakistan in 1969 to take up what would be his last post as Secretary (Bunyadi Jamhooriat).
[

citation needed

]
His service career came to an end with his suspension from government service in December 1969 followed by dismissal in May 1970 during the tenure of President Agha Muhammad
Yahya Khan
.
[

citation needed

]
Literary work
Mustafa Zaidi's first book of nazms,
Zangeerein/Roshni
(Chains/Light), was published in Allahabad in 1949, under the pseudonym "Tegh Allahabadi" (Sword of Allahabad), when he was just nineteen.
[

citation needed

]
Zangeerein was endorsed by two legendary Urdu poets Josh Malihabadi and Firaq Gorakhpuri, who became mentors for young Tegh Allahabadi.
[

citation needed

]
The second edition was published as
Roshni
in Lahore in 1950. After moving to Pakistan, the poet dropped his pseudonym "Tegh Allahabadi" and continued to write poetry as "Mustafa Zaidi".
[

citation needed

]
His published works include:
Zangeerein (1949)

Roshni (1950)

Shehr-e-Azar (City of idol worshippers) (1958)

Mauj Meri Sadaf Sadaf (1960)

Gareban (1964)

Qaba-e-Saaz (1967)

Koh-e-Nida (1971) (published posthumously)
One verses includes these words:
"Innhi pattharoun pey chal kar agar aa sako tou aao meray ghar key raastey mey koi kahkashan nahin hai
Mey kiss key haath pey apnaa lahoo talaash karoun tamaam shehr ney pehney huwein hein dastaaney"
[

citation needed

]
Death
Mustafa Zaidi is believed
[

citation needed

]
The mysterious circumstances and controversies leading to Zaidi's death on 22 October 1970, at the age of 39, made headlines in newspapers in Pakistan and threatened to overshadow his legacy as a poet.
[

citation needed

]
to have been murdered in an apartment in Karachi where he was residing, and his body was found alongside Shahnaz Saleem — a popular socialite — who was initially charged with murder. After a media circus and a prolonged and complicated court case, the cause of death was deemed to be suicide.
Work on Mustafa Zaidi after his death
Soon after his death, many leading Urdu poets paid their tribute to Mustafa Zaidi in form of poems and essays. Mustafa Zaidi supplements were published by major literary magazines
Naqoosh
,
Afkar
and
Naiee Qadrein
.
[

citation needed

]
The memorial work,
Al-Marhum
(The departed) collected essays from the issue of the literary magazine
Nuqoosh
.
[

citation needed

]
Compilations and books remembering Mustafa Zaidi such as
Ek tha Raja
and
Mustafa Zaidi ki Kahani (Hamid Baig)
were also published.
[

citation needed

]
A comprehensive research on Mustafa Zaidi was conducted by Laurel Steele in 2005-2006 from the University of Chicago. Her doctoral thesis was titled "Relocating the Post Colonial Self: Place, Metaphor, Memory and the Urdu Poetry of Mustafa Zaidi".
[

citation needed

]
Personal life