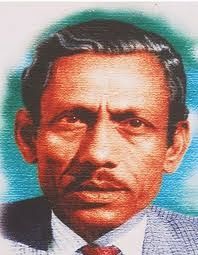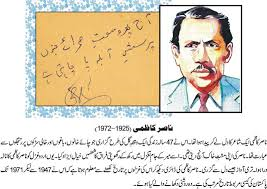 Education and career
Kazmi was educated at Ambala,
Simla
and afterwards at Islamia College, Lahore
Lahore
. He returned to Ambala in 1945 and started looking after his ancestral land. After the creation of Pakistan in 1947, he came to Lahore.
[

citation needed

]
He did some journalistic work with
Auraq-e-Nau
as an editor and became editor-in-chief of the magazine
Humayun
in 1952. Later he was associated with
Radio Pakistan
, Lahore and other literary publications and organisations.
[

citation needed

]
Kazmi started his poetic life in 1940 by following the style of
Akhtar Sherani
and wrote romantic poems and sonnets.
[

citation needed

]
Later he began writing
ghazals
under the guidance of Hafeez Hoshyarpuri.
[

citation needed

]
He was a great admirer of
Mir Taqi Mir
and probably the melancholy and "Ehsaas-e-Mehroomi" in his poetry was a direct result of that admiration.
[

citation needed

]
His tutor in poetry was Hafeez Hoshyarpuri, who also used symbols from nature in his poems.
[

citation needed

]
Nasir used to hum his poetic verses and it was appealing to many of his readers and listeners.
He emigrated from
Ambala, India
to
Lahore, Pakistan
in August 1947. He also worked as a Staff Editor for Radio Pakistan. He used to sit at Tea House and Wander at Mall Road, Lahore with his friends. He was fond of eating, wandering, and enjoying life. Normally thought of as a sad poet, most of his poetry is in fact based on romantic happiness and the aspect of hope.
His last four books were published after his death of stomach cancer in Lahore on 2 March 1972. A few days before his death, Kazmi said in a television interview with Intezaar Hussain, "...horse riding, hunting, wandering in a village, walk along the river side, visiting mountains etc. were my favourite pastimes and probably this was the time when my mind got nourishment for loving nature and getting close to the expression of poetry. All my hobbies are related with fine arts, like singing, poetry, hunting, chess, love of birds, love of trees... I started poetry because I used to reflect that all the beautiful things those I see, and those in nature are not in my hands, and they go away from me. Few moments, that time which dies, cannot be made alive. I think can be alive in poetry, that is why I (Nasir) started poetry!"
Books
Barg-e-Nae (ghazlein, 1952)

Deewaan (ghazlein, 1972)

Pehli Baarish (1975), Introductions by Ghalib Ahmed (1975) & Basir Sultan Kazmi (1983)

Nishat-e-Khwab (Collection of nazms, 1977)

Sur Ki Chhaya (Manzoom Drama, Katha, 1981), Introduction by Basir Sultan Kazmi

Khushk Chashme ke Kinare (Prose, 1982, edited by Basir Sultan Kazmi & Hassan Sultan Kazmi: essays, radio features, editorials. New Edition, 1990, includes Nasir's last interview and his dialogues with Intizar Husain, Muhammad Haneef Ramay & Sheikh Salahuddin)

Nasir Kazmi Ki Dairy (Chand Pareshan Kaghaz, 1995, compiled by Hassan Sultan Kazmi)

Intekhab-e-Meer (Poetry, 1989), Compiled & Introduced by Basir Sultan Kazmi

Intekhab-e-Nazeer (Poetry, 1990), Compiled & Introduced by Basir Sultan Kazmi

Intekhab-e-Wali Dakni (Poetry, 1991), Compiled & Introduced by Basir Sultan Kazmi

Intekhab-e-Insha (Poetry, 1991), Compiled & Introduced by Basir Sultan Kazmi

Intekhabs of other poets
Famous Ghazals and Nazms
Kazmi's ghazals and nazams include:
"kaun is raah se guzartaa hai"

"terii zulfon ke bikharne kaa sabab hai ko'ii"

"dukh kii lehr ne chheraa hogaa"

"dil men ek lehar sii uthii hai abhii"

"naaz-e-be-gaangii meN kyaa kuch thaa"

"O ! mere masruuf KHUDAA"

"yaas men jab kabhii aansuu niklaa"

"ko'ii jiye yaa ko'ii mare"

"be minnat-e-Khizr-e-raah rahnaa"

"dil dharaknay ka sabab yaad aya"

"jurm-e-inkaar kii sazaa hii de"

"jab raat gaye tiri yaad aayii, sau tarhe se jii ko behlaaya"

"tere aane kaa dhokaa saa rahaa hai"

"tanhaa aish ke khwaab na bun"

"fikr-e-taameer-e-aashian bhi hai"

"rang barsaat ne bhare kuch to"

"kise dekhein kahaaN dekha na jaye"

"karta usay beqarar kuch der"

"wo dil nawaz hai lekin nazar shanaas nahin"

"Neeyat e shauq bhar na jaye kahiin"

"Bannay Banaaye hue Raaston pe jaa nekly"

"So gai shahr ki har aik galli"

"Aai arz-e-watan"

"Apni Dhun Main Rehta hon"

"Kal Jinhen Zindgi thi Raas Buhat"

"Aur tau Dil main kya rakha hai"

"Kya Zamana tha keh hum RoOz mila karty thay"